GENERAL FITNESS & STRESSBUSTING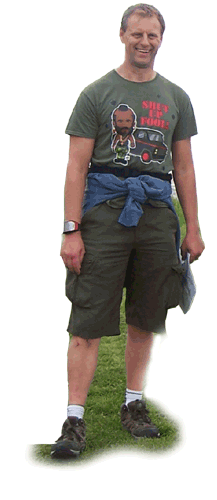 At least 30 minutes of moderate activity 5 days a week will show a good improvement to your health. Exercise improves your circulation and promotes a sense of well being and people who exercise regularly live longer, have a better quality of life and are less stressed. I could go on all day about the benefits but you probably know all this otherwise you wouldn't be reading this page.
Training day in, day out in the gym is not everybody's cup of tea which I where I come in. I can offer consistency of training and variation, helping you to exercise regularly to improve or maintain your level of fitness with different methods and within interesting and varied environments.
walking

power walking

cycling

jogging/running

mountain biking

adventure running

mobility & movement

kayaking

circuit training

swimming

orienteering
I have over 30 years experience of fitness training in Wales and have taken time out to master the skills and knowledge required to maintain a good level of fitness. I've travelled the length and breadth of Wales discovering areas of outstanding natural beauty and interesting historical locations while improving my own levels of fitness.

CLICK HERE TO EMAIL Dai @ PERSONAL TRAINER WALES
Fitness Services

Dedicated personal fitness sessions

Personal fitness plans

Themed sessions (historical walks/runs etc)

Pick up and drop off if required.

Group discounts available
WHY EXERCISE (source BUPA Health Information Team)
Regular moderate exercise will benefit your health in many ways, both physically and mentally.
Exercise reduces your risk of heart disease, stroke, high blood pressure and cancer.
Exercise reduces your risk of bone and joint problems.
Exercise helps you manage your weight.
Exercise helps prevent and control diabetes.
Exercise helps you feel happier.
To see most of these benefits, you need to do at least 30 minutes of moderate activity on five days of the week.
CLICK HERE TO EMAIL Dai Richards @ PERSONAL TRAINER WALES
Tel 0797 457 4167