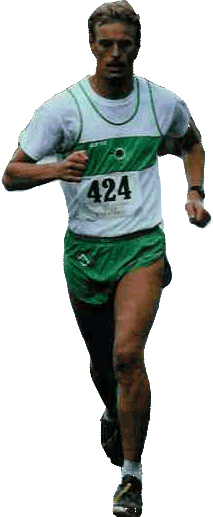 Judy Garland in the guise of Dorothy once said "there's no place like home" and I agree. I've travelled the globe but I've yet to visit a country with so many varied terrains and wonderful places within easy access of 90% of the population as Wales.
I just love it here ! So much so that I want to be outside training or walking at every available opportunity. My background is all sport, I was training and competing to a high standard for over 15 years. In 1987 I realised my life's first ambition when I represented Wales at cyclo cross, since then I've represented my country in another five sports, triathlon, mountain biking, duathlon, mountain running and marathon kayaking. I was also a Welsh/British champion in another two aquathlon & orienteering as well as winning county athletic titles in the 5000 metres (track) and cross country.
I retired from racing seriously in the spring of 2001 after reaching my goal of becoming a world champion in the veteran's category in the sport of quadrathlon (swim, kayak, bike & run). Inside Welsh Sport magazine suggested in 2009 that I have been 'Wales' fittest man ever'.
Since then I have gone on to sports development and coaching in my areas of expertise and have worked for a 3 years as director/coach & everything else in Neath Port Talbot College running a successful triathlon academy there. Along the way there has also been private training & coaching several individuals on a part time basis.
On the employment side my official title is 'company director'. Since 1991 I've run a company called Rugby Relics that is the world leader in the sales of Rugby Union Memorabilia.
For a full run down on my sporting career and other info please click on the links below or CLICK HERE to return to the home page